Sandcarving, also known as sandblasting, is a two- step method of personalizing many different high-end awards and trophies - first a mask must be lasered or photo-developed, then the item can be sandcarved using a fine abrasive and an artistic touch.  This process is frequently used to personalize and decorate hard surfaces like granite and marble awards, as well as glass and crystal awards.
It has become common within the industry to use only a laser to personalize these awards.  However, sandcarving adds depth to the text and logos that is noticeably superior when compared to simply laser engraving the award.  Awards Unlimited continues to invest in our sandcarving equipment and on-going training to provide our clients with an exceptionally well-finished award.  We encourage you to settle for nothing less than sandcarved personalization on your glass and crystal awards to increase the depth, beauty and perceived value for the honoured recipient.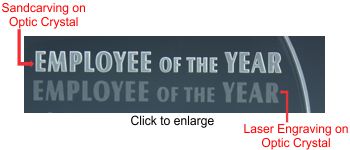 See the difference for yourself.  The image above is a photo of text that was sandcarved on an optic crystal award.  To show the difference between sandcarving and laser engraving, an identical line was also laser engraved on the same side of the award, just below the original personalization.